This article "What is a 51% attack?" talks about how it is theoretically possible to attack the Bitcoin network by owning 51% of the mining power. 
To understand a 51% attack, we first need to understand how the Bitcoin mining ecosystem works.
In the Bitcoin ecosystem, miners support the network by verifying transactions, creating blocks and adding them to the blockchain.
In this system, every miner holds a copy of the ledger – which means everyone's ledger is the same. In order to mine the next block, a miner has to have the same ledger as everyone else first.
This distributed common ledger ensures the immutability of the blockchain – i.e. you can't change past transactions. Once it is recorded, it stays on the blockchain forever.
Also, because every miner holds a copy of the blockchain, even if 20-30% of miners are destroyed or killed by an extreme case of a nuclear apocalypse, the Bitcoin network still will exist. This is what makes the Bitcoin blockchain so robust.
These miners ensure that the transactions on the network are legitimate and there is no double spend. If someone tries to play the system, they will be rejected by the other miners and deemed as a bad player. Their blocks will be rejected by the ecosystem and they have to go back to following the rules before they can 'play' again.
In exchange for doing the work to support the ecosystem, miners get rewarded by the protocol by getting bitcoins.  Right now, the prize for verifying a block is 12.5 bitcoins (BTC). This reward is set to half in May 2020.
A 51% attack
If a miner owns more than 51% of the computing power of the miners, it can technically control the blockchain. It can stop transactions from happening, prevent other miners from mining new blocks, or even do double spending with their existing bitcoin.
Although Bitcoin will survive this attack, it's reputation would have suffered tremendously and people may flee the network in search of something 'safer'.
Theoretically, this is possible. However, practically this is really hard to achieve because of the existing computing power that is already powering Bitcoin and its ecosystem. You'll have to spend a huge amount of money and invest in ASIC miners so that you will earn that 51% computing power.
Even governments who attempt this endeavour would likely fail, as you are going against every single Bitcoin miner all over the world and you have to get 51% of the network power. With so many countries already investing resources into mining Bitcoin, it is unlikely any government will get very far.
Vested Interest
But the real genius thing about Bitcoin is this: If you have spent so much money trying to get control over the network, why would you destroy it?
After all, the more of the Bitcoin network you own, the more you have the incentive to see Bitcoin appreciate in value.
Unless you're like the joker…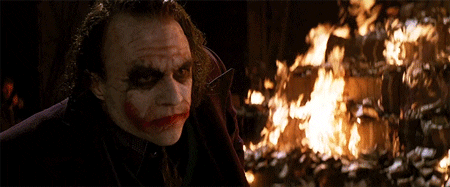 Then you practically have no reason to do so.
Unless you really want to watch the world burn.
But actually, a 51% happened before in Jan 2014 with Ghash.io. In that month, GHash.io actually captured 51% of the mining power.
However, when that happened, the people who used the GHash.io mining pool panicked. They went on social media to tell everyone in the GHash mining pool to get out of the pool so as to prevent a 51% attack!
This behaviour is interesting because it shows that the people in the Bitcoin network generally have its interest at heart, and want to see Bitcoin succeed as a world currency.
Anything that would damage its reputation would be unthinkable to these people, especially since they own a large chunk of it!
GHash ended up committing to never own more than 40% of the mining power.
Since then, Bitcoin has grown exponentially and the cost of mining Bitcoin has gone up even further. This also means that miners will have to spend even more money to even get 51%.
What do you think? Do you think it is still possible for a 51% to still happen in today's price and popularity? Leave your thoughts in the comments below!
You might also like
---
More from What is Blockchain?
---
1.9K
This article How to track Blockchain transactions teaches those new to cryptocurrencies a simple way they can track their cryptos …
1.5K
This article How does the SHA256 in Blockchain Work? A Demo by Anders.com is a demonstration of how the blockchain works. …
1.9K
Definition of Dapp While terms such as 'blockchain' and 'cryptocurrency' are words you commonly hear, others such as 'Dapp' may sound …